Ayming Institute is the reflection and innovation laboratory of the Ayming Group. It brings together all the intellectual content developed by the consultants and experts of the group to imagine the business performance of tomorrow.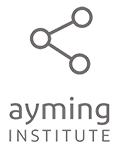 Ayming Institute fournit une documentation qui contribue à l'analyse des questions contemporaines de managements et de politiques publiques. Il est un outil d'aide à la décision au service des dirigeants d'entreprises et de leurs stratégies de performance. Ses contenus sont à la disposition de tout autre leader d'opinion ou acteur économique qui souhaite acquérir une meilleure compréhension de l'évolution de l'économie.
La première publication d'Ayming Institute se consacre à l'absentéisme :
Fléau social et économique, l'absentéisme continue d'augmenter d'année en année, au point d'atteindre aujourd'hui plus de 17 jours par an, en moyenne, en France – soit l'équivalent de trois semaines et demie ! Un chiffre significatif témoignant de l'urgence d'une réalité que nous devons comprendre pour relever ce défi, car la situation devient critique.
Explosion du secteur tertiaire, généralisation des nouvelles technologies, interpénétration de notre vie professionnelle et de notre vie privée, multiplication des contrats courts… les bouleversements de la vie au travail ont été, ces 20 dernières années, aussi nombreux qu'irréversibles, et font del'absentéisme un enjeu capital.
Un enjeu que les entreprises n'ont pas su anticiper pour adapter et repenser leurs relations au travail. Elle engendre un mal-être chaque jour plus profond chez des travailleurs de plus en plus nombreux. Si le taux d'absentéisme est une mesure accessible, visible et même inquiétante, il n'est que la partie émergée de l'iceberg. L'alerte est rouge aujourd'hui, elle virera écarlate demain.
Dans cet ouvrage, Fabien Piazzon appelle les employeurs à réagir en faisant leurs aggiornamentos. Il les invite à avoir un objectif prioritaire : engager et réengager leurs collaborateurs, car l'absentéisme n'est pas une fatalité.
Il revient à l'employeur de positionner le développement du capital humain comme un enjeu stratégique et ne pas perdre de vue que l'engagement est le révélateur de la qualité de vie au travail et, en définitive, le fondement essentiel de la performance de l'entreprise.